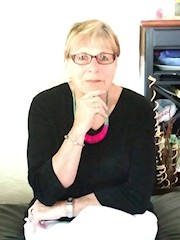 There were 190 hardy members and guests braved the cold rainy April weather to join us for our retiree meeting; it's always good to see each and every one.
Birthday girl, Peggie Sponsler came through once again with a meal worthy of labeling it Easter dinner; ham, green beans, coleslaw, rolls and cookies…who could ask for anything more. A great big thank you to our kitchen help; Barbara Cantrell, Chris Yant, Ginny Dillon and Ray Burzyck.
Nurses were not on site due to attending a meeting, but will be back with us next month.
Our meeting was called to order at 12:00 Noon by Chairman Ted Fleming and Ted had a roll call of officers and all were present.
Orville Clark led us in the Pledge of Allegiance and Norma English offered an invocation.
A moment of silence was held for our deceased members.
Ted introduced Elizabeth Schuler, from the UAW Legal Services who spoke on our new legal service plans. Liz reminded us that to arrange an appointment for our legal work, we must call 1-800-482-7700. All new cases start with a call to this important number. She reminded us how fortunate we are because there are only five UAW legal offices in the State of Ohio, and we have one here in Defiance. We were also reminded that UAW legal covers the retiree only, not the spouse…unless the spouse is involved in the case.
Vice President Larry Cooper delivered President Keith Boecker's report. There were two new retirees this month and they were present at our meeting. Welcome aboard. Benefit representatives have been at a Conference this week but will return on April 10th at the Plant and April 12th Darla will return to the UAW Hall, reminder she is here for our retired members on Wednesday, Thursday and Friday.
Elections for the Executive board will be held May 11th; retirees can come to the UAW Hall to vote from 5:00 A.M. until 7:00 P.M.
Larry informed us that there are 948 active members in the plant, 637 production and 311 skilled.
Ted once again reminded us to write, tweet or call our legislators and make it known they must not touch our Social Security. To quote Ted, "Hold their feet to the fire; if it isn't worth fighting for, it isn't worth having". Can you tell I just have so much fun with Ted's ISMS!!! They always make me smile and I hope they do the same for you.
Ted acknowledged birthdays and anniversaries and I tried to note names and birthdays, but best I could do was Donelda Royal who is now 96 years old, Chico is 70, Baldy is 74 and Ken is 81, and many more that my ears didn't catch. Happy Birthday to all and Happy Anniversary.
On another note, Peggie Sponsler, Sergeant-at-Arms has decided to not seek re-election to her position and I, Recording Secretary have also chosen to not seek election. Family duties call for our undivided attention. Ted asked for nominations and those few nominated declined. Hopefully someone will step forward in the next month or two and take up the baton. Great opportunity to serve your local; and the perks are many. I would be more than happy to assist in the transition should someone want to give this a try. If I can do it…anyone can.
Ted Fleming and Orville Clark were nominated once again as Chairman and Vice Chairman and both accepted, thank you both for taking on another three years for all of us.
Reminder: Kitchen help for May is Harold Williams, Bill Thomas and Bob Brown; if kitchen help can arrive by 9:00 A.M. that would be great.
Lunch is served at 10:30 A.M. and the meeting starts at 12:00 Noon on Thursday May 4th.
Submitted By:
Dorothy Engelhaupt
Local 211 UAW
Retiree Recording Secretary
---
CONDOLENCES

To our bereaved members and their families, we offer our sincere condolences for the loss of their loved ones. We extend our sincere sympathy to the families of


Betty Rickenberg – Retired 1/87
Helen Black – Retired 2/93
Earl Willis – Retired 10/91
David Nartker – Retired 8/01
Gayle Sarver – Retired 5/07
Santos Bentancur – Retired 5/91
Thomas Paniagua – Retired 11/87
Ronald Albertson – Retired 8/98
George Ellison – Retired 6/06
Robert Allen – Retired 3/87
Harold Keys – Retired 4/81
Bland "Clifford" Meade – Retired 3/90