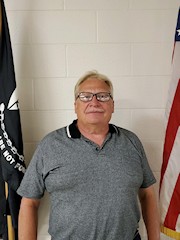 Greetings, at the September Retiree meeting the UAW TRUST Benefit Representatives were in attendance to give all the updates on our health care for 2018. They gave us information on staying with Blue Cross or switching over to Aetna for Medicare Advantage. If you need further information please contact Dan Perez at the UAW Hall, and he will assist you with your questions.
We would like to thank our Kitchen helpers for the month of September, Virginia Dillion, Joyce Plummer, Vern Martin and Marv Cobb.
This past July, five Local 211 Retiree couples got to attend meetings at the UAW Educational Center, Black Lake Michigan. This year's topic was Ethical Consumerism which are things that are not harmful to the environment, such as organic fertilizer, reusable energy and non pollutant factories. The retiree officers attended meetings in October and we discussed reasons to Build America, Buy American and union made products. We all had a
very enjoyable time exchanging views and ideas with our active UAW brothers and sisters.
At the October Retiree meeting, Chairman Ted Fleming spoke about UAW retiree chapters
closing across Ohio and Indiana. The reason for these closing is the lack of participation from the membership in most cases.
President Keith Boecker reported that the Defiance Area UAW CAP meetings are always held the second Tuesday of every month. Refreshments are served at 5:00 p.m. and the meeting begins at 5:30. Everyone should attend these very important meetings.
Keith Boecker also informed us that the UAW Park will be closing on October 27th for the winter months. He also reminded the membership that the local will only be printing and mailing out the newspaper every other month.
Keith spoke about the layoffs at the GM Plant and informed us that there are 731 active workers at this time.
On October 19th there will be a Right to Work meeting at the UAW Hall at 5:00 P.M. If you are interested in attending please contact Lisa at the UAW hall to RSVP.
Sara Laws spoke on Issue 2 we will be voting onin November. The UAW is staying neutral on this issue.
Chairman Fleming also spoke on issue 2. He addressed his concerns of staying out of the fight. He believes that a NO vote assures that nothing will change and drug pricing will continue to increase. So please do your homework and vote your conscience.
Our Kitchen help for the October meetings was Bonnie Shock, Bob and Linda Wagner and Paul Kruse. Thank you for your help.
We would also like to thank the Defiance County nurses that come to our meetings every month and give blood pressure checks to our members.
The next retiree meeting will be held on Thursday, November 2nd. We hope to see everyone attend. In closing, I want to remind everyone the notice about the Retiree Christmas dinner will only appear in this month's paper, so if you plan on attending, safe
guard this copy of the newsletter.
Submitted By:
Ivan Burgei
Local 211 UAW
Retiree Recording Secretary
---
CONDOLENCES

To our bereaved members and their families, we offer our sincere condolences for the loss of their loved ones. We extend our sincere sympathy to the families of


Benjamin White – Retired 6/01
Paul McMillen – Retired 7/90
Richard Grimes – Retired 7/02
James Molnar – Retired 6/97
Frank Rovison – Retired 4/89
Simon Mendoza – Retired 1/95
Laurie Lucas – Retired 4/94
Kenneth Poineau – Retired 5/06
Robert Brinkman – Retired 6/90
William Wieland Jr. – Retired 7/06
Paul Copsey – Retired 9/74
Clemente Fuentes – Retired 1/06