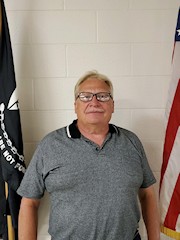 We had 190 members and guest at our November meeting. Our Kitchen helpers were Norma English, Jane Clark, LeAnne Breckler. Thank you for your gracious services, Kitchen helpers and nurses.
President Keith Boecker reported the Children's Christmas party will be December 10th.
Chairman Ted Fleming and the Executive Board appreciate all the members who pay their monthly union dues. This helps offset the cost of our Christmas party, the monthly meals we prepare and this year's Kid's Christmas party.
On December 7th we celebrated the Retiree's Christmas party here at the UAW Hall. There were over 280 members and guests present. Some of the guests were; Larry and Dorothy Dole, Region 2-B Director Rich Rankin, Assist. Director Wayne Blanchard and our retired Region-B Director Ken Lortz and his wife.
Susie's Catering from Bryan furnished us with chicken breast, meat loaf, green beans, corn salads, noodles and of course desert.
On December 10th from 11:00 A.M. until 2:00 P.M. Santa Claus and his elves treated all the children here with candy, cookies, pop, tree ornaments, coloring books and face painting. Each child was given a chance for a toy of their choice by placing their wishes in their favorite jar. I did not see any disappointed children. Thank you again to Santa and the elves.
See you at the January retirees meeting on the 4th, 2018. Doors open at 10:30 A.M. Come and enjoy the food and please stay for information following our dinner for the meeting.
We wish you all a very Merry Christmas and safe and Happy New Year.
Submitted By:
Ivan Burgei
Local 211 UAW
Retiree Recording Secretary
---
CONDOLENCES

To our bereaved members and their families, we offer our sincere condolences for the loss of their loved ones. We extend our sincere sympathy to the families of

Robert Hanker – Retired 3/88
William James – Retired 11/97
Bill Tracy – Retired 1/95
Shallus Beatty – Retired 8/98
Charles Critten – Retired 4/05
Tom Spires – Retired 3/98
Leslie Weidenhamer – Retired 6/06
Jose Urbina – Retired 11/88
Paul Thompson – Retired 1/2000
Clevan Smith – Retired 8/94
John Frazier– Retired 3/01
David Shook – Retired 4/98
Richard Gordon - Retired 5/82
Miguel Reyes - Retired 1/92