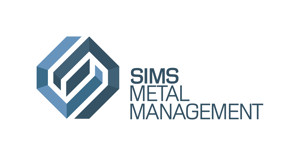 Sims Metal Management, Inc. is one of the largest full service metals recyclers in the United States, with approximately 53 recycling facilities in 17 states. It has leadership positions in many major markets, including Defiance, Toledo, Cleveland, Detroit, Chicago, metropolitan New York City, Houston, Phoenix, Denver, Memphis, Cleveland, Hartford, Salt Lake City and Birmingham. It has a substantial ownership position in Southern Recycling, one of the largest metals recyclers in the Gulf Coast region.
Sims Metal Management is primarily involved in the collection and processing of ferrous metals (iron and steel) and non-ferrous metals (principally aluminum, copper, nickel-based, titanium and high-temperature alloys). It collects industrial and obsolete scrap and processes scrap into reusable forms. Its processed ferrous products primarily include shredded, sheared, cold briquetted, bundled scrap metal, and other purchased scrap metal, such as turnings, cast and broken furnace iron. Sims Metal Management processes non-ferrous metals using similar techniques and through the application of its proprietary technologies. It supplies the recycled metals to electric arc furnace mills, integrated steel mills, foundries, secondary smelters and metals brokers. In Defiance, Ohio, Sims Metal Management of Ohio processes ferrous and non-ferrous metals by baling, shearing, crushing, torching and iron breaking.
Sims Metal Management has several other operations. It is periodically retained as demolition contractors in certain cities where its facilities are located. Second, it provides stevedoring services at some of its locations adjacent to commercial waterways. Through deep water ports in New Jersey and Connecticut, Sims Metal Management exports a substantial tonnage of ferrous and non-ferrous scrap metal to international markets; this includes, but is not limited to China, Korea, Taiwan, Turkey, Malaysia, Indonesia and Mexico.