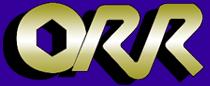 Founded in 1957 and privately held, the Herbert E. Orr Company is a world-class manufacturer of hot forged wheel lug wrenches and wire form products for the automotive and agricultural industries. Headquarters and manufacturing facilities are located in Paulding, Ohio. With approximately 75 trained employees and 60,000 square feet of manufacturing space, Herbert E. Orr has the ability to manufacture and ship products to meet specific needs. It has a diverse product line such as wrenches, automotive accessory tools and tool sets, hood stays, transmission linkage rods and lever select rods and tillage tools. Herbert E. Orr utilizes cellular manufacturing for hot forging, cold forming, wire forming, E-Coat painting (power coating) and wire drawing (straighten and cut to length). It also provides other services such as: injection molding, broaching, heat treating, zinc plating and special packaging of parts.
In May 2000, Herbert E. Orr installed a new parts finishing/coating system. Combining the latest technology in powder coating with the use of automatic gun applicators, it has the ability to paint material with E-Coat paint to further enhance the protection of materials. Current product uses and applications include: (1) automotive products such as wheel wrenches, hood stays, jack tools, transmission linkage rods and metal stampings; (2) agricultural products such as harrow tooth spikes; and, (3) other products such as electrical cabinet stampings and wire forms.
The Herbert E. Orr Company manufactures more than 2.5 million wire forms every year for the automotive industry in sizes currently ranging from five mm to 12.7 mm in diameters. These wire forms are used for various applications such as: (1) keeping a hood open to check the engine; (2) emergency crank for a motorized sunroof; (3) transmission linkages; (4) tools/assemblies to operate the jack; (5) child restraint anchors; and, (6) gear shifting levers.