Who decides what we pay?
UAW members decide how much union dues will be through our democratically elected local union convention delegates.
Local union dues may be raised only by majority vote at a membership meeting.
In 1967 delegates adopted the principle of dues equivalent to two hours pay per month to be fair to all workers, regardless of how much they are paid. That is still the standard.
Salaried workers pay 1.15 percent of monthly wages—equal to the two hours pay that hourly workers invest.
Rules regarding dues are explained in Articles 16 and 47 of the UAW Constitution.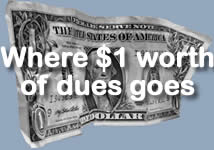 50.35¢ to the local
44.65¢ to the international
5¢* to the strike fund
* Distribution may change depending on
the strike fund balance, as explained on the left.