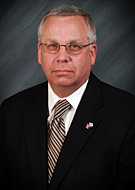 Ken Lortz was elected by acclamation as director of UAW Region 2B by delegates to a special convention held April 30, 2009. He had served as assistant director of the region, which covers the state of Ohio, since 2002 when he was appointed to the position by UAW President Ron Gettelfinger. "Ken brings a lot of experience to the position of director," said Gettelfinger. "He easily relates to the problems that our membership incurs as well as the problems working people across America face. He's a strong advocate for workers' rights and civil rights." "I've known Ken for at least 20 years and watched him grow as a local union leader, International staff member and as our assistant director," said outgoing Region 2B Director Lloyd Mahaffey who retired from the position April 30. "I can't think of anyone better to replace me."
Following a successful organizing drive at St. Vincent Mercy Medical Center in Toledo in 2000, Lortz was assigned as the lead negotiator for the three newly organized bargaining units in UAW Local 12 that include nurses, technical and service employees. He helped win significantly improved pension, wage and health benefits for nearly 2,800 new UAW members when they won their first contract. He carried out servicing responsibilities in northwest Ohio as a member of Region 2B staff from 1993 until 2002. His assignments included Independents, Parts and Suppliers; Technical, Office and Professional contracts, and national Chrysler facilities.
Ken has been a UAW member since 1970 when he joined Local 336 at Atlas Crankshaft in Fostoria, Ohio. He served the members of Local 336 in a variety of positions from 1974 to 1993, including as president and chairman of the bargaining committee. Active in his community, Lortz is a member of the board of directors for Wake Up Youth, an advocacy group for at-risk girls in Toledo. He is also sits on the board of directors for Camp Courageous, an organization that provides camping experiences and respite weekends for individuals with developmental disabilities.
Lortz was born October 2, 1952 in Upper Sandusky, Ohio. He and his wife, Karen, were married in 1973 and have a son, two daughters, and two grandsons. They live in Carey, Ohio, and are members of Our Lady of Consolation Parish and Basilica.

UAW Region 2B, Main Office
1691 Woodlands Drive, Maumee, Ohio 43537
(Telephone: 419.893.4677 / Fax: 419.893.4073)
Sub-Regional Offices
1155 D. Lyons Road, Dayton, Ohio 45458 (Telephone: 937.433.1524 / Fax: 937.433.1770)
133 East Livingston Avenue, Columbus, Ohio 43215 (Telephone: 614.464.2055 / Fax: 614.464.4330)
102 Westchester, Austintown, Ohio 44515 (Telephone: 330.792.0890 & 330.792.1549 / Fax: 330.792.2747)
5000 Rockside Road, Suite 300, Cleveland, Ohio 44131 (Telephone: 216.447.6080 / Fax: 216.447.1719)