Rich Rankin, Director
UAW Region 2B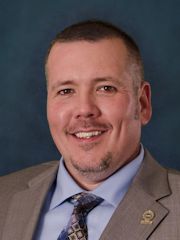 Rich Rankin was elected Region 2-B Director at the Special Convention held on June 15, 2017.

He was appointed Assistant Director of UAW Region 2-B, covering the states of Indiana and Ohio, in August of 2014.

Prior to becoming Assistant Director, he carried out servicing responsibilities in Northeast Ohio as a member of Region 2-B Staff from March of 2010 until August of 2014. His assignments included Independents, Parts, and Suppliers; Technical, Office, and Professional contracts, and General Motors.

Rankin has been a UAW member since 1997 when he joined Local 1112 at GM in Lordstown Ohio. In 1998 he hired into the Lear Seating plant in Lordstown Ohio where he served the Lear members of Local 1112 in a variety of positions from 2001 to 2010, including three terms as Chairman of the bargaining committee.

Rankin graduated with a Bachelor's Degree in Organizational Management from Malone University in Canton, Ohio. He has a welding diploma from New Castle School of trades and worked as a certified pipe welder prior to working at GM.

Born and raised in Youngstown, Ohio, Rankin is a life member of the NAACP, and serves on the governing board of Toledo Technology Academy, the board of LEAD Ohio, and Sherrod Brown's re-election committee.



Rich and his wife Heather, were married in 1995 and have three sons. They live in Swanton, Ohio.

UAW Region 2B, Main Office
1691 Woodlands Drive, Maumee, Ohio 43537
(Telephone: 419.893.4677 / Fax: 419.893.4073)
Sub-Regional Offices
1155 D. Lyons Road, Dayton, Ohio 45458 (Telephone: 937.433.1524 / Fax: 937.433.1770)
133 East Livingston Avenue, Columbus, Ohio 43215 (Telephone: 614.464.2055 / Fax: 614.464.4330)
102 Westchester, Austintown, Ohio 44515 (Telephone: 330.792.0890 & 330.792.1549 / Fax: 330.792.2747)
5000 Rockside Road, Suite 300, Cleveland, Ohio 44131 (Telephone: 216.447.6080 / Fax: 216.447.1719)